What is the comparison between paper lids and PS lids?
Views: 0 Author: Site Editor Publish Time: 2021-05-24 Origin: Site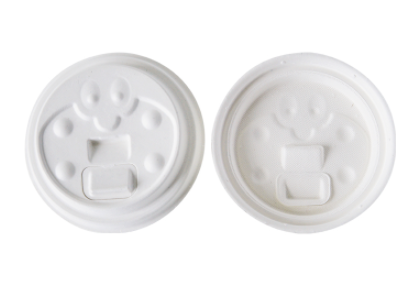 The paper lids for coffee cups are a key piece of many morning commutes. But once the coffee is gone, paper lids can start to pile up. However, we can see from the coffee shops that the owners prefer to use plastic lids rather than paper lids, not to mention disposable paper lids due to their high cost. The most plastic lids are made of polystyrene, which is a 6-grade plastic. Many may wonder whether PS lids is safe.

What is the comparison between paper lids and PS lids?
What are the features of paper lids and PS lids?
Are PS lids harmful?
What is the comparison between paper lids and PS lids?
Paper lids are made from high-quality single-coated paper. The coating on paper lids is made from PE, which is to prevent liquid from leaking out or soaking through the paper. Paper lids, together with paper cups, is used in every kinds of businesses and for all kinds of events, which is also why we offer different types of cups that not everyone wants the same type of cup.
The outer layer of paper lid is made of paperboard, which provides heat retention and insulation properties. The outer layer of a paper lid keeps the beverage hot as long as possible, while still not being too hot to carry around comfortably. Paper lids can also prevent dirt into your drink when you are doing the block. Also, paper lids can prevent your dink from pouring out to tarnish the clothes.
Polystyrene lids (PS) manufactured by extrusion and thermoforming have been introduced by ANBAO. ANBAO's PS lids product group, consists of several sizes, shapes and covers practically all the applications. Polystyrene is a thermoplastic, which flows if it is heated above its glass transition temperature, which is roughly 100°C. Polystyrene contains carbon and hydrogen, making it relatively strong, because of its strong intramolecular forces. The PS lids are designed in such a way, to be sealed onto the cup, with a small sipping hole. Not all PS lids actually fit the cups they are designed to fit, which can result in waste and spills.
What are the features of paper lids and PS lids?
Paper lid can improve the speed of the liquid flowing through the drinking aperture. Paper lid has the ability to help cool the coffee. Also, paper lid offers channel steam toward the drinker to waft more of the aroma of the coffee toward them as they drink.
When you hang out with your friends, you may hold a milk tea so that the paper lid can keep tightly shut against splashes to spot clothes. When using a paper lid, we can bring your cup of water everywhere like a bottle. Paper lids can also keep your water clean lest the dust from passing cars drifts into the water. Paper lids is used as a clapboard to keep water clean.
PS lid is divided into sip through lids that are suitable for hot paper and foam (EPS) cups as well as cross cut lids that are used in cold paper and EPS cups. The main diameters of PS lid that are being manufactured are 80mm and 90mm that are compatible with the vast majority of disposable paper cups found in the market. PS lids are not like paper lids. PS lids are made of thermoplastic, which can prevent water out of the paper cups. Paper lids will absorb the water to become soft, while PS lids do not. PS lids can also prevent dirt from the drink when you hang out.
Are PS lids harmful?
Most juice and coffee cup PS lids are extremely toxic since PS lids fall in the 6 and 7 classes of plastics. As such, one must never heat them or even sip from them. It goes without saying that the best option is a china or glass cup though there are better alternatives made from Grade 5 polypropelene plastic.
The plastic lids are made of polystyrene, a Grade 6 plastic which is the denser form of Styrofoam. This component can not only leach harmful chemicals that mimic hormonal action into food, but also increase cancer risk.
A study conducted by the University of Arizona revealed that PS lids were breeding grounds for bacteria. Bacteria are aplenty on PS lids.
Learn more something about paper lids can know the difference between paper lids and PS lids and some features of paper lids and PS lids. If you want to buy high-quality paper lids with reasonable price, ANBAO PAPER PRODUCTS CO., LTD. can help you to open up a further and larger market, it is wise to choose us as your business partner. We use the highest resolution we can to make the images on your personalized paper lids appear professional, flawless and a display of the highest quality that your business can be proud of.